The DALY Calculator is a free, open-source GUI for the calculation of disability-adjusted life years (DALYs) and the quantification of related uncertainties, developed in the R environment for statistical computing.
The main goal of the DALY Calculator is to provide a generic and easy-to-use tool for DALY calculation, and to promote consistency in the uncertainty analysis of DALYs.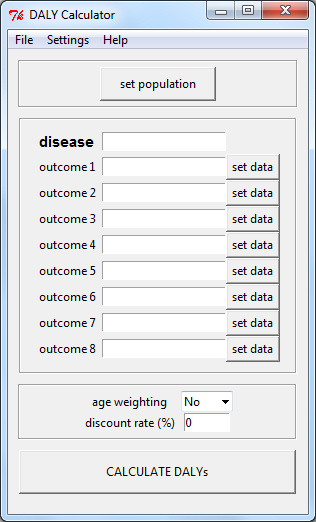 How to install and use the DALY Calculator?
The DALY Calculator is available for Windows, Mac and Linux, and can be freely downloaded from the R website. The latest release is also available here. More information on its installation can be found here.
Notes on how to use the DALY Calculator are available here. More information can be found in the DALY Calculator manual accompanying the DALY package.
Any questions?
Please contact us for questions, bug reports or feature requests.
The development version of the DALY Calculator is available on GitHub.